We are the largest GIANT BREED dog rescue in the world!
WE RESCUE AND ADOPT 45 DIFFERENT BREEDS!
Gentle Giants Rescue and Adoptions rescues as many as one thousand or more dogs
and puppies each year from countless animal shelters and individuals all across America,
and even from some foreign countries. We rescue all of
our many breeds as well as
"Unique Combinations" of our breeds from wherever they are in need!
We are a TRUE rescue! We ONLY rescue! We NEVER breed! We save EVERY life!
We believe that breeding should be strictly regulated when dogs are dying every day in shelters!
Please read about our support for
The California Healthy Pets Act
and
how every concerned moral
citizen can help support the new laws regulating breeding, so that by working together,
we can strive for a world where every animal will have a safe, loving home for life!
See how we can all be
Canine Crusader Superheroes
if we help animals in need!
How To Adopt A Dog From Us
Available Dogs for Adoption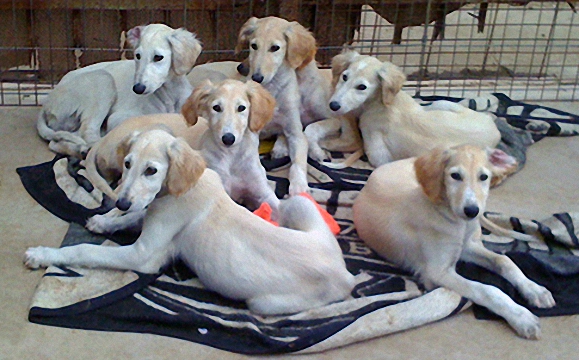 American Staghounds - Saluki Borzoi Greyhounds
Baby, Cleo, Egypt, Sandscript and Cupid

Bernie - Saint Bernard

Bernie and friends
| | |
| --- | --- |
| Bianca - Maremma Sheepdog | |
Charlie - Miniature Goldendoodle
Cody - Chinese Crested Powder Puff
Estrella - Portuguese Podengo Medio
COMING SOON!
Rescuing

We Have Many More Dogs Available That Haven't Yet Been Posted . . .
nd Adopting


We have MANY BEAUTIFUL Great Danes, Borzoi, Great Pyrenees, Saint Bernards, Newfoundlands, Greyhounds,

Irish Wolfhounds, Scottish Deerhounds, English Mastiffs, Neapolitan Mastiffs, Ambull Neapolitan Mastiffs, Bullmastiffs, Fila Brasileiro Brazilian Mastiffs, Adronicus Mastiffs, South African Boerboel Mastiffs, Dogue de Bordeaux French Mastiffs, American Mastiffs, Tibetan Mastiffs, Spanish Mastiffs, Tosa Inu Mastiffs, American Staghounds, Doodles, Woodles, Naffies and Airdanes, Poodles, Labradoodles, Poodles Combinations, Bernese Mountain Dogs, Bloodhounds, Sasquatch, Maremma Sheepdogs, Leonbergers, Akbash, Saluki, Ibizan Hounds,
Exotic Breeds, Whippets, Silken Windhounds, English Bulldogs, Italian Greyhounds, Peruvian Inca Orchids,
Chinese Cresteds, Shelties, American Eskimos, Xoloitzcuintle, Unique Combinations, Special Needs Hard of
Hearing Dogs and Blind Dogs, Gentle Giants Buddies, Little Giants Combinations, and Other Loving Lap Dogs!


SOUTHERN CALIFORNIA AND SOUTHERN NEVADA RESIDENTS ONLY
PLEASE SUBMIT AN ADOPTION APPLICATION TODAY
TO ADOPT ONE OR MORE OF OUR BEAUTIFUL DOGS!
| | |
| --- | --- |
| English Mastiff puppy | Neapolitan Mastiff puppies |
| | | | | | |
| --- | --- | --- | --- | --- | --- |
| | | | | | |
| The Incredible Hulk | Hermione | Harry Potter | Aang | Appa | Katara |
| | | | | | |
| | | | | | |
| | Beyonce | Madonna | Howl | Sophie | |
Watch the video ----->
and hear the tender story how we rescued a young, starving,
Neapolitan Mastiff mother and her infant puppies above , nursed
her and her puppies back to health, and then found her a wonderful,
safe, loving home with her new best friend, a Fila Brasileiro Mastiff.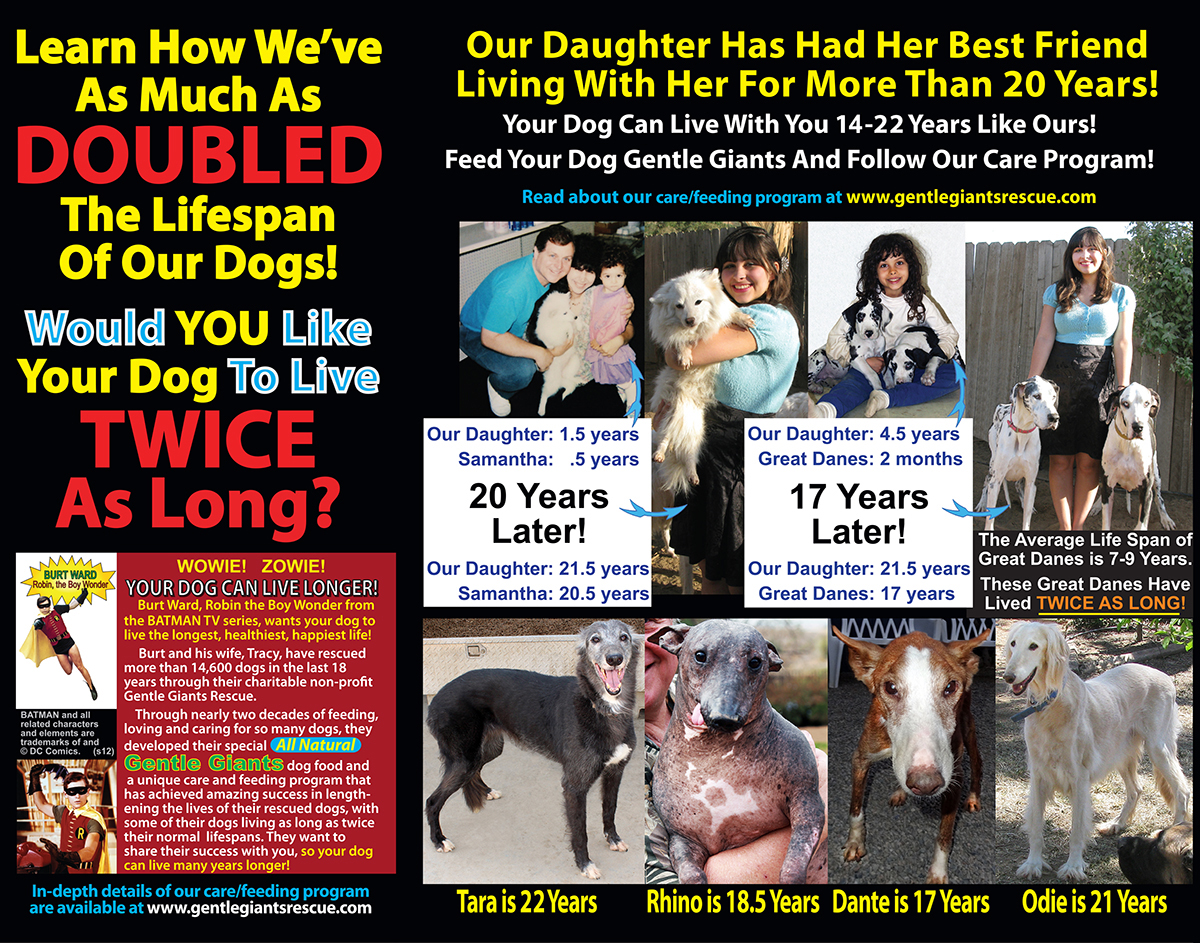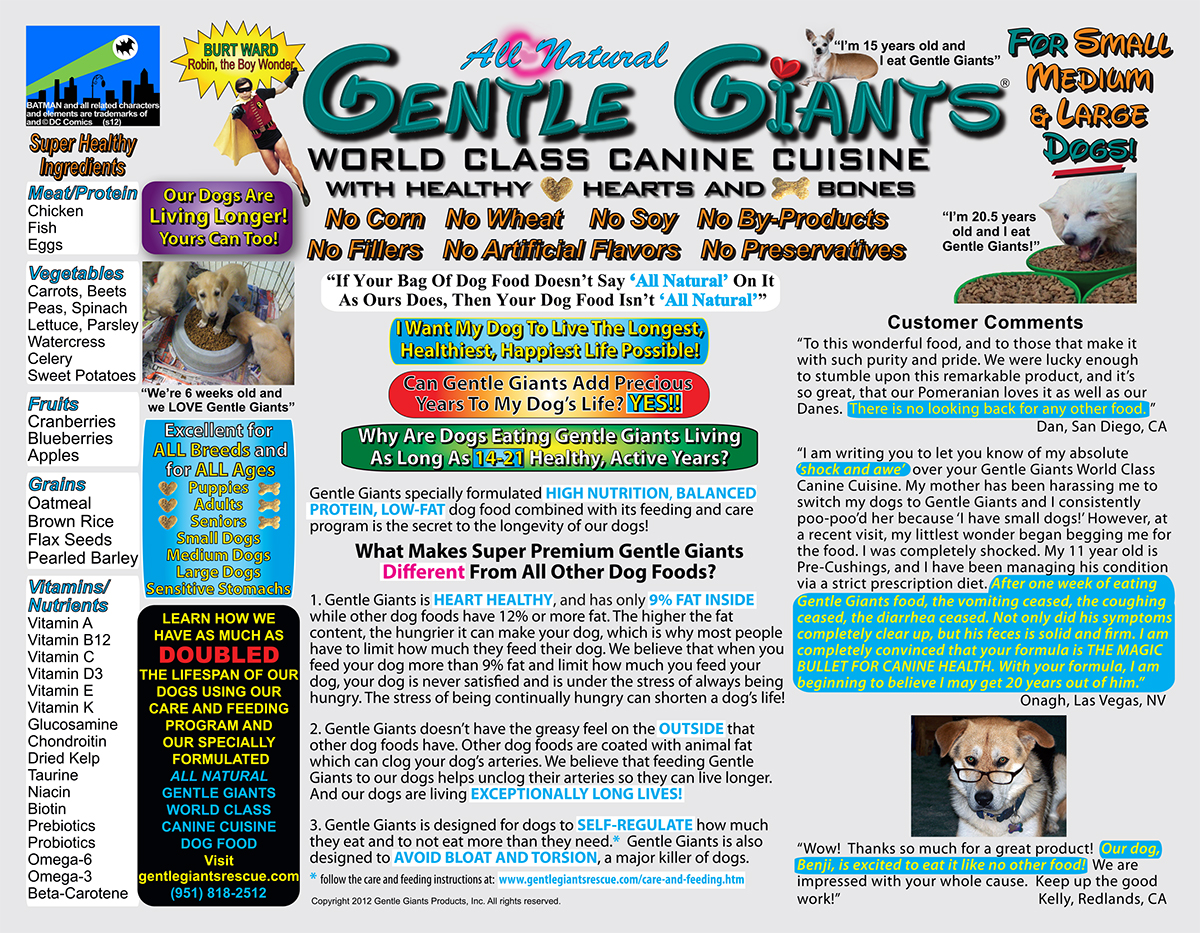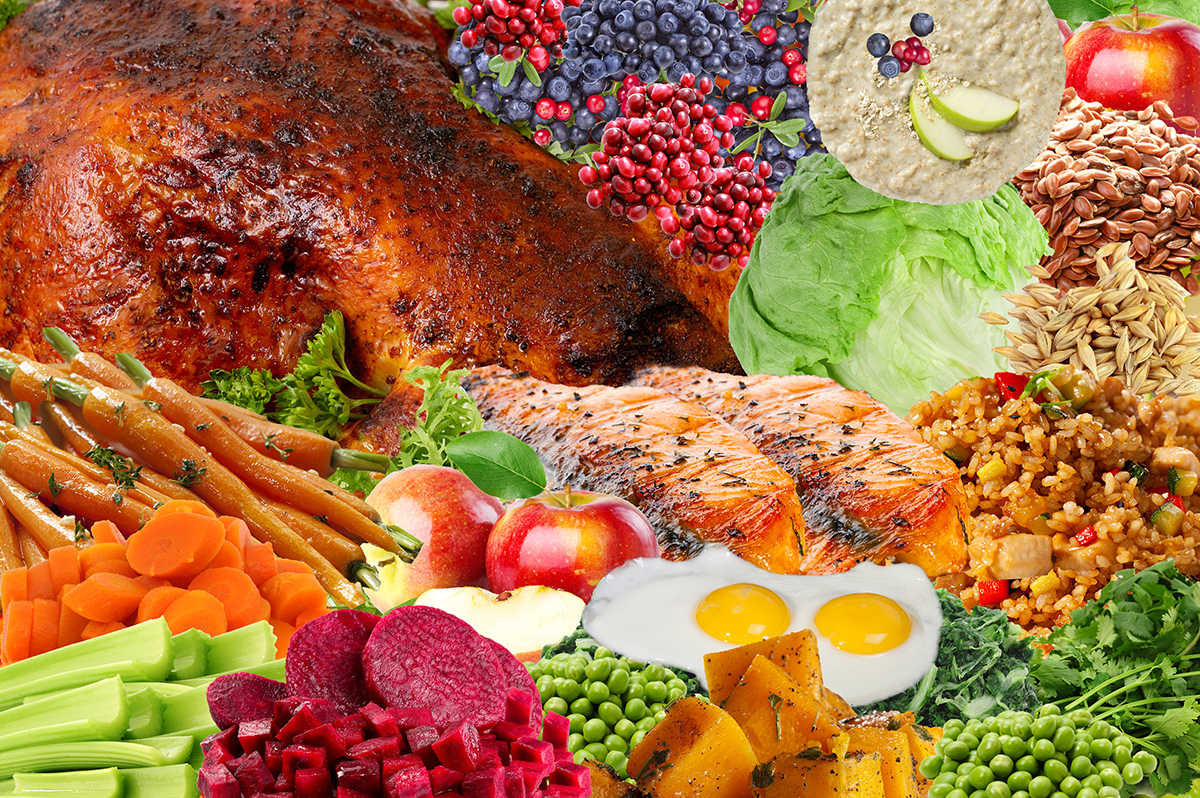 Calories: 333 kcal/cup, 3348 kcal/kg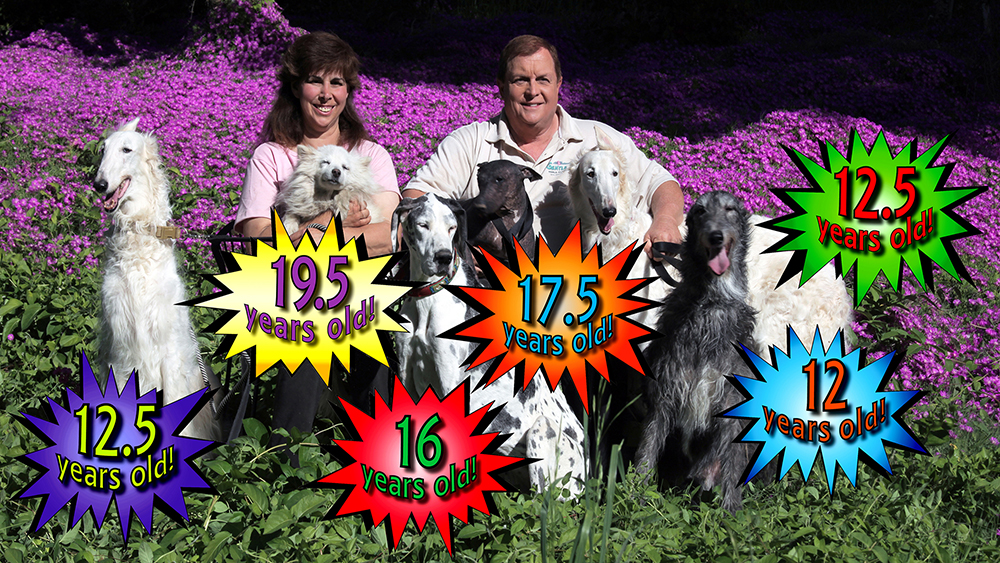 Recent Correspondence
10/9/2012

Hello. We are finally ordering your food. YEAH!

David P.
Gainesville, FL
-----------------------------------------------------------------------------

11/2/2012 - Unbelievable!
Hello. We are in Day 7 of the food change over and it is nothing short of amazing. Prior to buying Gentle Giants, we had to sprinkle some meat or pour some gravy on his food to get our dog, Dewy, to eat.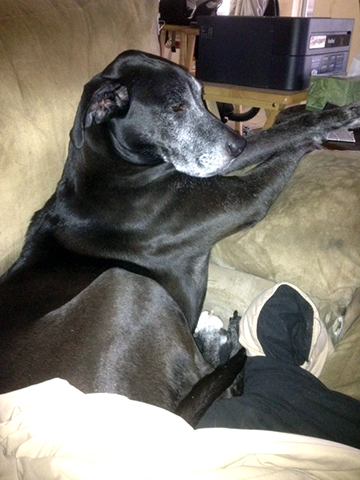 Now, when he hears it hit the bowl, he actually runs to eat, and eats it all, every time. 

Tomorrow, we go 100% Gentle Giants and are excited about it.

His energy level us up 100%, too. He's wearing me out playing with him, but it's FANTASTIC.

Thanks.

David P.
Gainesville, FL

-----------------------------------------------------------------------------
11/19/2012 - Love the food
WHY 5 TIMES PER DAY?
We are just finishing our first bag. My dog has more energy, a softer coat, has lost weight, and is like a new dog.
Thanks.
David P.
Gainesville, FL
P.S. Can I buy some of your 3 fold color brochures to hand out to people that I have been running into?
-----------------------------------------------------------------------------
11/19/2012 - Re: Love the food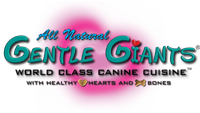 Hi David:
Thank you for your correspondence.
Please give me a call at your convenience, and I will explain our entire feeding and care program to you. My telephone number is (951) 818-2512.
We have our dogs living 14-21 years and they are wonderfully healthy and running around like puppies even at 21 years old. They are so healthy that we don't even have to take them to our vet except every three years for a rabies update.
Please give me your address and I will send you several packages of our brochures. We don't charge for them.
Best regards,
Burt Ward
Gentle Giants Products
Gentle Giants Rescue and Adoptions
(951) 818-2512
-----------------------------------------------------------------------------
11/19/2012 - Re: Love the food
Many THANKS for all of the information.
Great on the brochures. Just like when we were pregnant suddenly we, saw pregnant women everywhere, now we are seeing Large Dogs everywhere.
I have been handing out a business card with your website on it, we are so impressed with our results. Your brochure is just so nice.
Is it a good idea to approach our vet to see if they would carry Gentle Giants?
Thanks, have a GREAT DAY.
David P. and our Happy dog, Dewy
Gainesville, FL
-----------------------------------------------------------------------------
12/6/2012 - Re: Love the food
Hello Burt,  
I spoke with you on the phone a few days before Thanksgiving.
Thank you for all of the great information. After just over a month on your food, our dog has actually started leaving food in his bowl.
FANTASTIC!
I had asked for some of your brochures and you said you would send me information on how to approach our Walmart manager, and what to say to help get your food in our local store.
I have not received this information yet. I know how busy you are and hope to get it soon.
THANKS, have a VERY MERRY CHRISTMAS!
David P.
Gainesville, FL
-----------------------------------------------------------------------------
12/8/2012 - Re: Love the food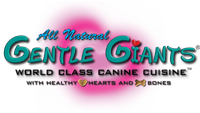 Hi David:
Thank  you for your correspondence.
I am thrilled to hear that your dog is doing great on Gentle Giants. 
Since your dog has now been on Gentle Giants for over a month, the next thing that you should look for is a noticeable increase in your dog's overall health since our dog food should be helping remove the fat content from your dog's arteries that has built up from the years of eating other dog foods. Please let me know if you notice a difference.
Lastly, you are correct. I have been extraordinarily busy filling orders to stores of our Gentle Giants dog food.
I will overnight you several packages of our brochures on Monday for arrival at your home on Tuesday. I still have to look for the information to send you to contact your local Walmart store manager. I'll find it soon.
Thank you for your help in spreading the word about Gentle Giants.
I hope you and your family and your dog have a wonderful Christmas and a terrific New Year.
Best regards,
Burt
(951) 818-2512
email: 
burt@gentlegiantsrescue.com
-----------------------------------------------------------------------------
12/8/2012 - Re: Love the food
Thanks, our dog Dewy, has lost a noticeable amount of weight. We are going to get him weighed this week.
Several people have commented on the softness of his fur and he HAS walked away from finishing several meals.
We believed, but were skeptical. IT WORKS!
Today, just about 6 weeks into it we put food in a big Tool Box, hoping he would self-regulate, but still a little skeptical.
In his first 3 feedings today, he only ate for about a minute then walked away.
My wife was AMAZED. We should have the control he has eating.
THANKS.
David P.
Gainesville, FL
-----------------------------------------------------------------------------
-----------------------------------------------------------------------------
September 18, 2012

Dear Gentle Giants:

I just wanted to let you know that I bought a large bag of Gentle Giants dog food today for my one-year-old male chocolate labrador retriever!

He is very picky about his kibble. 

As soon as I put the Gentle Giants kibble in his bowl, he gobbled it up! I was feeding him Science Diet Large Breed Adult food and he would not eat it unless I mixed in cooked chicken or ground beef.

Today I mixed the Science Diet with the Gentle Giants kibble and he did not eat the Science Diet! He left all of the Science Diet kibble on the floor!

I will send you another email in the next couple of weeks to let you know how he is doing on his new food.

Sincerely,

Evelyn M.
We invite you to follow us on
From Caped Crusader to "Canine Crusader"


Robin to the Rescue!

All Natural
Gentle Giants
World Class Canine Cuisine


A gift painted by a fan shows Robin as a "Canine Crusader" coming to the rescue of man's best friend
Our 17' tall display of
Gentle Giants World Class Canine Cuisine with
our Gentle Giants banner
August 11, 2012





BURT WARD – who played Robin the Boy Wonder on the beloved '60s TV show "Batman" – has gone from caped crusader to canine crusader!

The former sidekick to actor Adam West now operates a rescue shelter with his wife Tracy for dogs in Norco, Calif. They also sell an all-natural dog food that Ward claims gives pooches an 14- to 21-year lifespan.

"My dog food is a special com­bination that's dry and low-fat," Ward, 67, told The ENQUIRER. "We go through 600 pounds a day to feed our dogs, and they only have to go to the vet once every three years, just for their regular shots!"

Ward added that he doesn't make any money from his dog food or the shelter, saying: "This is a charity. We're simply giving back to society."

At least 50 tail-waggers live with the couple at any given time. That includes 45 different breeds, ranging from tiny lap dogs to 295-pound giants.

His Gentle Giants dog food – touted as "specially formulated all-natural world-class canine cuisine" – is sold in Walmart, and Ward is now touring to promote the product – and himself.

Fans who cough up the cash for a bag of Gentle Giants get a free autographed photo of Ward as Robin, plus the chance to have their picture taken in the famed Batmobile.

"The main purpose is to in­troduce people to Gentle Giants dog food," said Ward, who also peddles the product at www. gentlegiantsrescue.com.

And he's prepping to return to TV – but without his red, yellow and green Robin costume.

"I'm getting ready to do a pilot for a series about our dog rescue," Ward said. "We'll show how we save dogs and find them loving homes."
Holy Charity Event, Batman!
Gentle Giants Raises Much Needed Funds to Feed Rescued Dogs!
Walmart Customers Can Now Buy Super Premium Gentle Giants Dog Food
for Their Beloved Dogs at a Huge Discount from Pet Store Prices!
Gentle Giants Introduces Its Feeding and Care Program That Can Double the Lifespan of Dogs!


WALMART IN STORE VIDEO
Information about Gentle Giants World Class Canine Cuisine dog food and treats!


Holy Special Event To Lengthen the Lives of All Dogs!
Burt and the Batmobile made a special two day appearance at the Walmart Supercenter
in Baldwin Park, CA to celebrate the introduction of all natural Gentle Giants World Class
Canine Cuisine dog food onto Walmart's shelves. Walmart customers can now purchase
super premium Gentle Giants at a price less than 1/2 of what they would pay for an all
natural dog food in a pet store.

Burt also introduced Gentle Giants enormously successful feeding and care program that Gentle Giants Rescue and Adoptions uses to as much as double the lifespan of its rescued dogs. Walmart customers were thrilled to learn how they can help their dogs live many more years than they normally would, and they were especially appreciative that Gentle Giants has made its super premium all natural dog food affordable for everyone to help their dog live the longest, healthiest, happiest life!

Gentle Giant rescue dog brings attention to extending dogs lives!


Super Premium Gentle Giants is now available to Walmart customers


Line to meet Burt, get an autographed photo, and sit in the Batmobile

Burt signs autographs for junior Superheroes!

Gentle Giants personnel provide much needed help with Batfans

"Batman and Robin" pose in front of the Batmobile


Long lines of dog lovers were non stop for 7+ hours each day

Burt greets dog owners and answers their care and training questions

Gentle Giants and young Batfan sit in stroller

Robin fan is thrilled to sit in the Batmobile

Bring Super Premium all natural Gentle Giants to your local Walmart Store!

(and maybe Burt Ward, Robin, with the Batmobile!)

If you want to have all natural Gentle Giants dog food available to you in your local Walmart,
please speak to the store manager (only) of your local Walmart to have it ordered for you!
Here are Gentle Giants UPC #s:
853013002062 (37.5 lbs.) and 853013002017 (17.5 lbs.)
Bring Gentle Giants World Class Canine Cuisine Dog Food To Your Local Walmart!
(We will forward your request to Walmart corporate)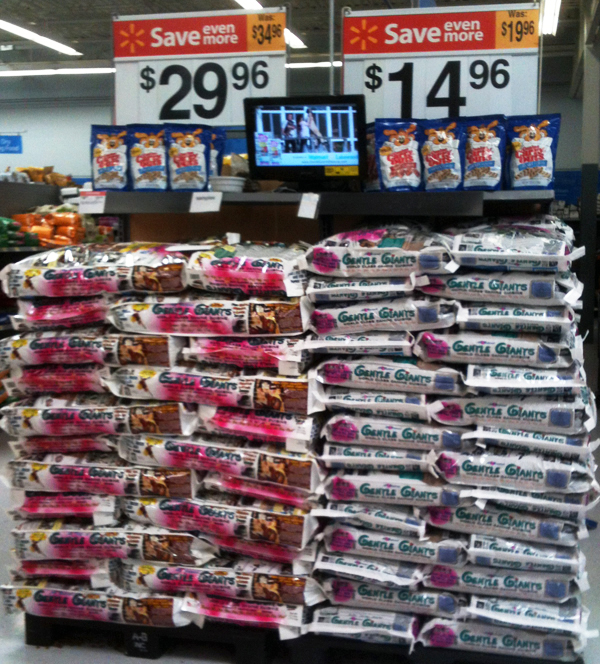 Walmart Display of Gentle Giants

All natural
Gentle Giants dog food
is available in 37.5 lbs. and 17.5 lbs.
Recent Letters to Gentle Giants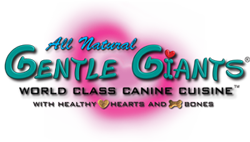 Wow!  Thanks so much for a great product!  Our dog, Benji, is excited to eat it like no other food!  We are impressed with the whole cause.  Keep up the good work!
Kelly L.
Redlands, CA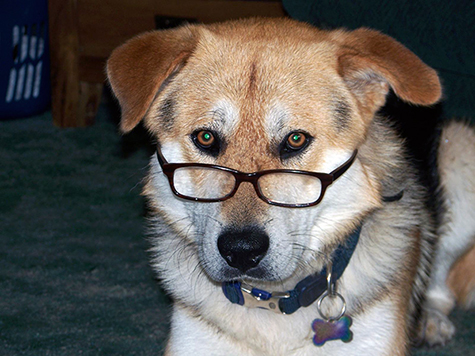 My wife and I have two "kids" - a yellow lab (Maverick) and a golden retriever (Molly).  Maverick has a sensitive stomach and Molly has skin allergies.  A friend of mine has been telling me about your food so we decided to give it a try to see if it helps.
We've been feeding the dogs Iams.  The first thing we noticed when we opened the bag of Gentle Giants food was the aroma.  Your food smelled fresh and sweet, where the Iams smells like grease.  Next, we mixed the food for acclimation and even with such a small amount of your food in the mix, the dogs went nuts.  Molly even took the time to chew it.  This morning was only their second time eating the mix and when they were finished they had to switch bowls to see if the other had any food left in it, something they haven't done before.
We're hoping that the food will help with their issues, and I'm confident it will.    
We "rescued" both our dogs from Petworks, and I mean rescued.  (Just because a dog isn't in a shelter doesn't mean it doesn't need a loving family and a healthy life).  Maybe when the Lord takes Molly or Maverick back, we can be blessed by working with you.
Thanks for all you do for these magnificent animals. 
Tim and Lynda L. w/Maverick and Molly
Rancho Santa Margarita, CA
Hello Mr. Ward,

I will continue to inform and sell your product PROUDLY. My dog hasn't been the same since I started feeding him Gentle Giants. He is acting younger everyday. Thank you for giving us back our puppy. Talk to you soon.

James T.
Pet Department Manager, Walmart
(James has a 12 year old Rottweiler who was feeling his age
until he began eating all natural Gentle Giants dog food)
Gentle Giants:

First Id like to say that YOUR DOG FOOD HAS CHANGED THE QUALITY OF OUR DOGS' LIVES! We have a Merliquin Great Dane (Gracie) who is two, and a four year old English Mastiff (Zoe.) My husband is in the Army, and we have moved A LOT! With each move, the dogs developed a more sensitive system, the end result being severe stress colitis. Out of desperation we tried your food (having it shipped to Texas was costly), but much to our surprise, ALL THE SYMPTOMS WENT AWAY!

The reason I am writing is because about 4 months ago, the biggest and most drastic move occurred; we were sent to Germany. We left the dogs with friends until we could secure a good home with us here in Europe. Now that we have done that, and are ready to have our dogs, I am wondering if you could ship to our APO address? Our family misses our dogs, but, WITHOUT YOUR FOOD, I AM SURE THE DOGS WILL GO BACK TO THE SICKLY STATE THEY WERE IN BEFORE. Do you have any suggestions for us?

Thank you in advance.

Sincerely,

Suzanne L.
Hi~

My name is Jennifer and I have three babies at home (pugs) eating Gentle Giants. I was looking for a good quality dog food but couldn't seem to find anything without going to a specialty store and I came across Gentle Giants in my local Stater Bros. So, I brought it home and they have been on it for about two weeks now. They already seem perkier and to have more energy. One of my pug's has a sensitive stomach and he always had problems on other brands that I tried except for one, and it was just too expensive for me to continue to buy for three dogs. So, Thank You for a high quality dog food that is convenient to get and at an an affordable price!

Jennifer
San Jacinto, CA
Hello Burt:
This may sound strange but your rescue changed my sister's life. Her and her father adopted many great Danes from you, and I believe one of them is the Harlequin living with my mom and me.
Sadly, we lost my sister yesterday morning, and we will be asking people to donate to your rescue in lieu of flowers.
At the Wizards World convention last year, she wanted so badly to tell you exactly how appreciative she was and what your rescue meant to her, but she chickened out at the last minute. So, I wanted to take a moment and tell you myself that the dogs she adopted from you were such a huge part of her life and helped her so much in her battle with depression.
Thank you so very much!

Anastasia McBride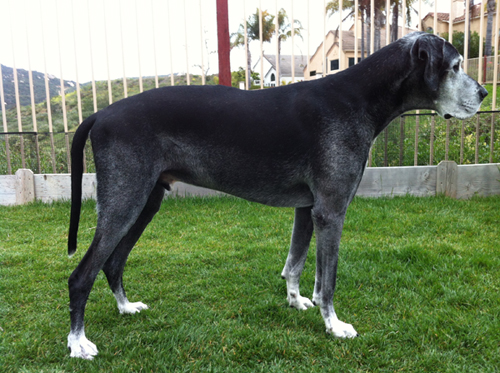 Hi Tracy and Burt:

Wagner continues to do very well on your Gentle Giants dog food and has just about regained all the weight he lost.

Hard to believe just a short while ago when he was eating another dog food, he was under 100 lbs., down from 146 lbs.

Hope you all are well.

Love you both!

Greg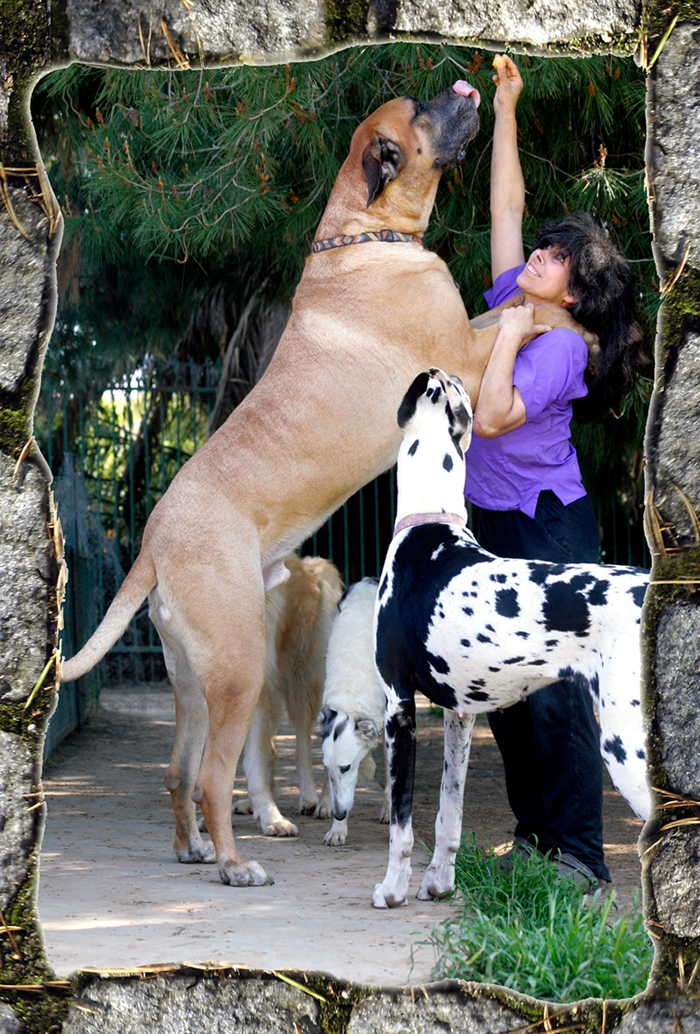 Our Great Dane "Sammy" is a giant baby that is still growing!

Current Height Standing: 7' 3" - Current Weight: 285 lbs.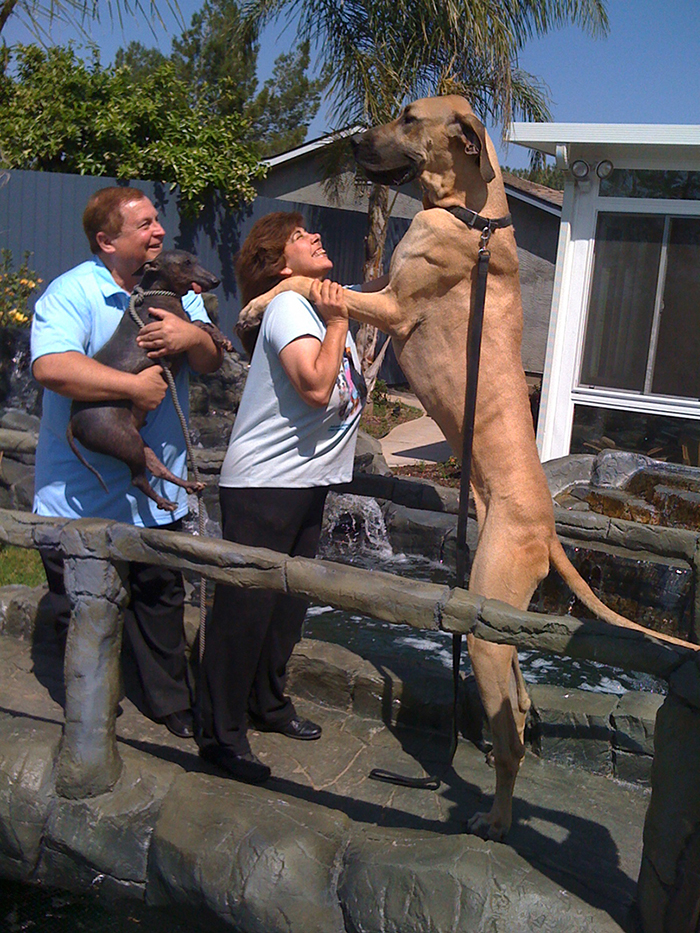 Our Great Dane "Minato" is a giant baby who may reach 8' tall!

Current Height Standing: 7' 3 1/2" - Current Weight: 160 lbs
.
Great Danes are not for everybody!
Great Dane and Granny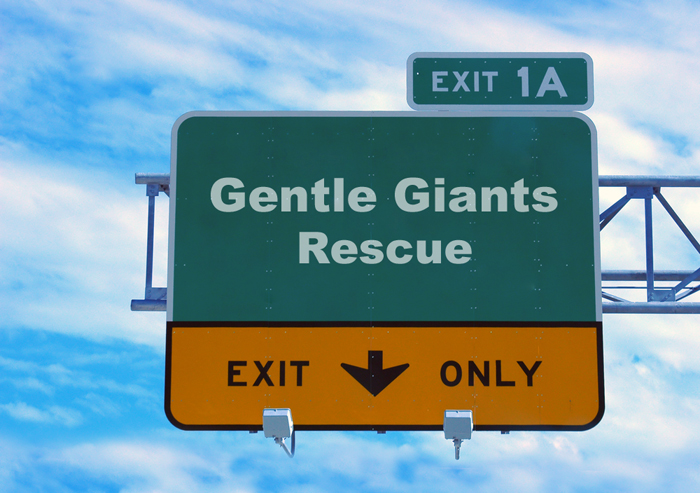 Gentle Giants Rescue is located 50 miles east of Los Angeles

* * * * *

To Our Gentle Giants World Class Canine Cuisine Customers
Gentle Giants World Class Canine Cuisine is Available in the following stores:
All Stater Bros. Markets
All Ralphs Grocery Stores
All Gelson's Supermarkets
All Save Mart Supermarkets
All Lucky Grocery Stores
If you want to have all natural Gentle Giants dog food available to you in your local Walmart,
please speak to the store manager (only) of your local Walmart to have it ordered for you!
Here are Gentle Giants UPC #s:
853013002062 (33 lbs.) and 853013002017 (17.5 lbs.)
Latest News from Gentle Giants - Keep checking back for updates
Gentle Giants is Now Available in Indiana at the
Walmart Supercenter in Merrillville, IN

Gentle Giants is also Now Available in South Carolina at the Walmart
Supercenter in Lake Wylie, SC and in the Walmart
Supercenter in Lakeland, FL
(please see below for details)
***
Gentle Giants World Class Canine Cuisine is
Now Available in Three Walmart
Supercenters in the Mid West and on the East Coast!!
**
*
Eight New Walmart Supercenters
Huge Introductory Discounts on Gentle Giants 33 lb. bags and 17.5 lb. bags!
New!
New!

Walmart Merrillville - #1618
2936 E. 79th Avenue
Merrillville, IN 46410
(219) 947-1309


Walmart

Lakeland

- #1245
5800 N. Hwy 98
Lakeland, FL 33809
(863) 859-3626

Walmart Lake Wylie - #5745
175 Highway 274
Lake Wylie, SC 29710
(803) 619-7021
Merrillville, IN
Merrillville, IN

Hello Burt,

Great news!  I was able to go to the Walmart SuperCenter in Merrillville, Indiana and buy 7 large bags of Gentle Giants dog food!

Our Great Danes, Bella and Venice, love Gentle Giants, and we're very excited to have opportunity to buy it close to home.

Thank you for bringing Gentle Giants to Walmart.

I hope all is well with you and your family members of two legs and four legs!

-Serif


Please visit the Walmart SuperCenter in Merrillville, IN and
pick up a bag of all natural Gentle Giants World Class Canine Cuisine dog food - You can save the shipping cost!!
**
Gentle Giants World Class Canine Cuisine is Available in Two Walmart
Supercenters in Southern California!!
**
Two Convenient Southern California Walmart Supercenters
Huge Introductory Discounts on Gentle Giants 33 lb. bags and 17.5 lb. bags
Walmart Simi Valley - #2621
255 Cochran Street
Simi Valley, CA 93065
(805) 581-1666

Walmart Baldwin Park - #3522
3250 Big Dalton Avenue
Baldwin Park, CA 91706
(626) 814-2235
From Caped Crusader to "Canine Crusader"


Robin to the Rescue!

All Natural
Gentle Giants
World Class Canine Cuisine


A gift painted by a fan shows Robin as a "Canine Crusader" coming to the rescue of man's best friend
Our 17' tall display of
Gentle Giants World Class Canine Cuisine with
our Gentle Giants banner
We invite you to follow us on
Please Note: Gentle Giants Rescue and Adoptions reserves the right to make changes, additions, deletions and/or modifications to its website, documentation, requirements and policies at any time.
All such changes, additions, deletions and/or modifications to its website, documentation, requirements and policies may apply retroactively at the discretion of the company.


© Copyright 2003-2012 Gentle Giants Rescue and Adoptions, Inc. All Rights Reserved