Watch our video below to see how much fun it is to live with 45-50 Canine Kids!


(

there are 27 dogs pictured in our bedroom below - ages10-20 years old

,
living happy, healthy lives significantly past their normal lifespan
)
Slow Motion Footage: We want you to see
the harmonious environment in
which our dogs live with us in our home. Please watch how our Gentle Giants
and Little Giants are as affectionate to us and to each other as we are to them.
Notice how happy all the dogs are with their tails wagging continuously.
See what it's like to be "sat on" by a 295 lb. giant Mastiff! Watch a Saluki jump over our king size bed.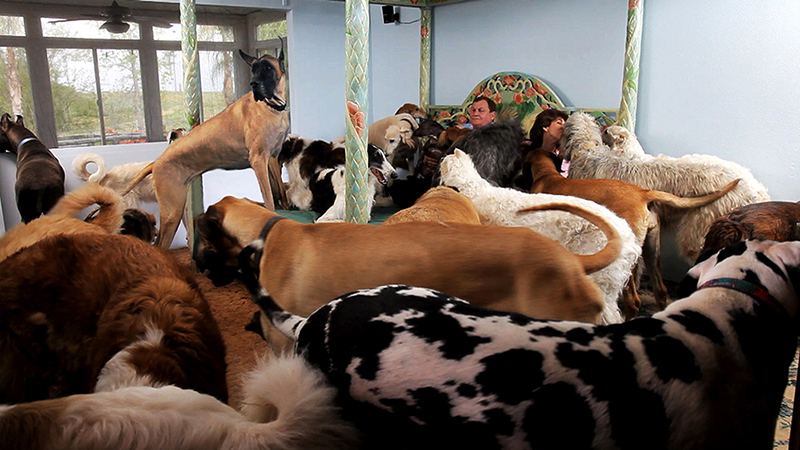 Our bedroom today with 27 of 45 Gentle Giants and Little Giants who live with us in our home!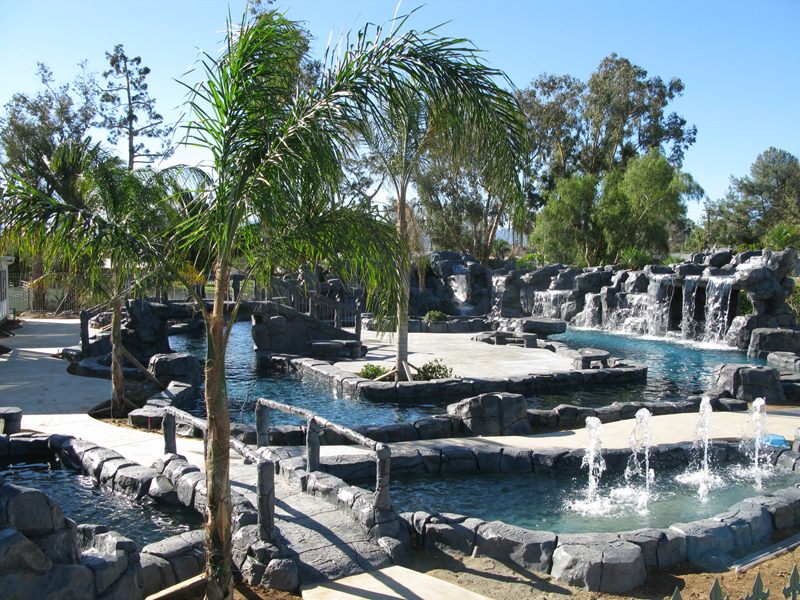 A paradise for dogs and people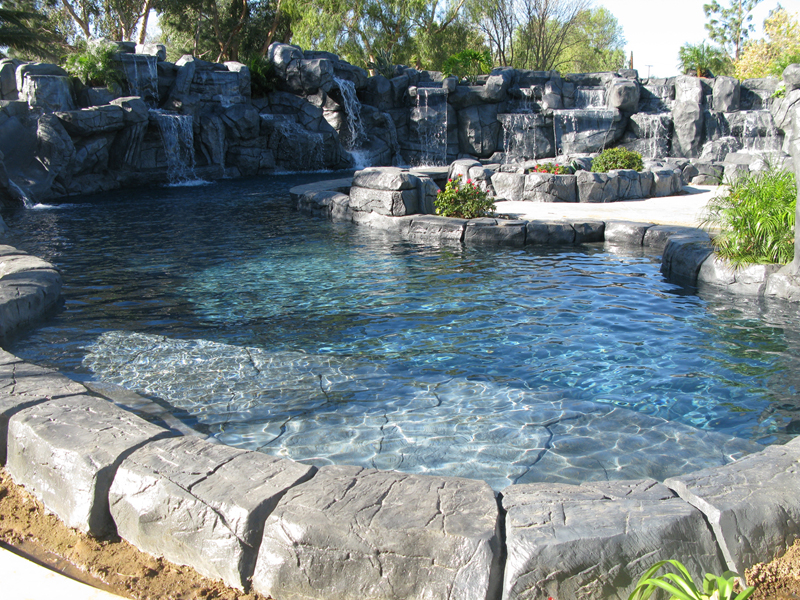 Reef shelves for our dogs to play in who don't like deep water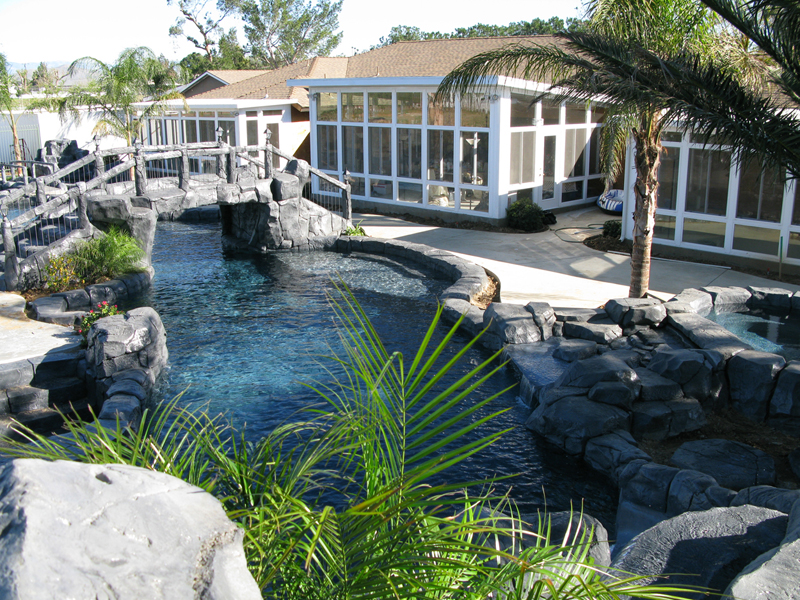 A Lazy River

to relax in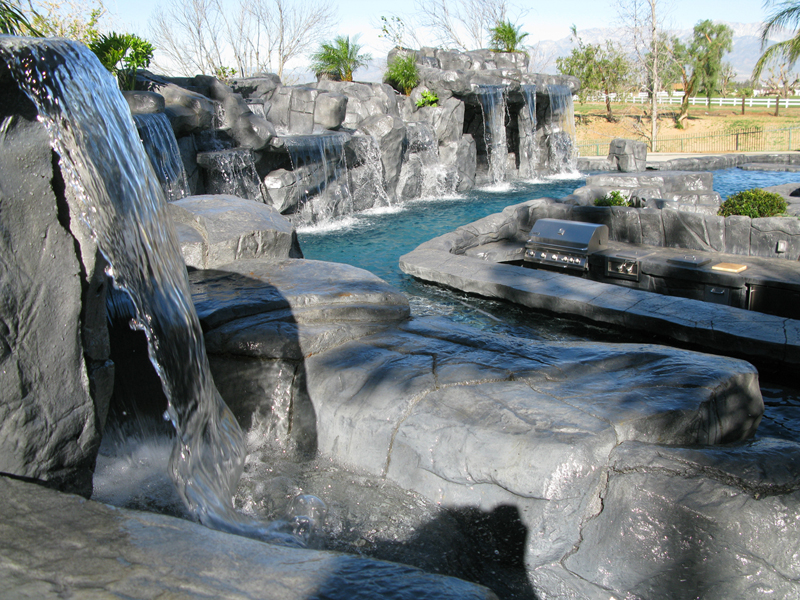 88' of Rock Waterfalls, a spacious Grotto, and a 37' Slide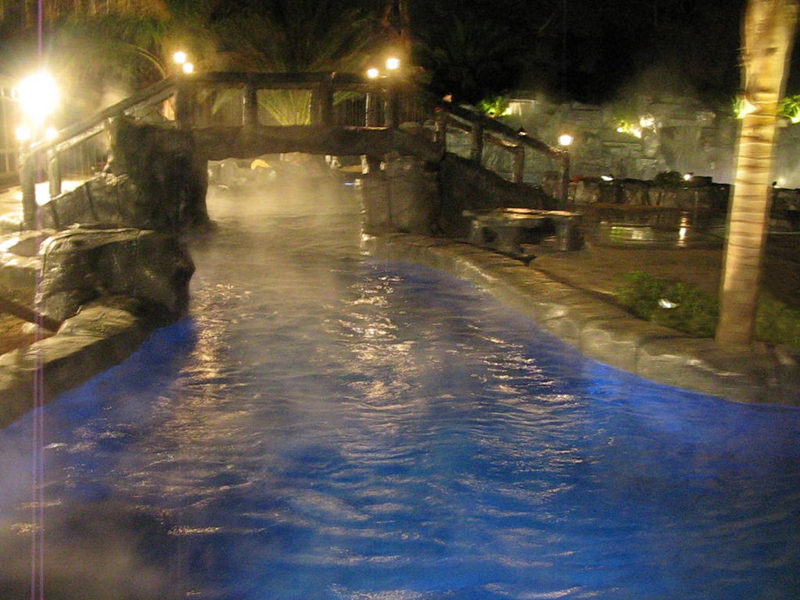 Steam rises from the warm water amid tropical landscaping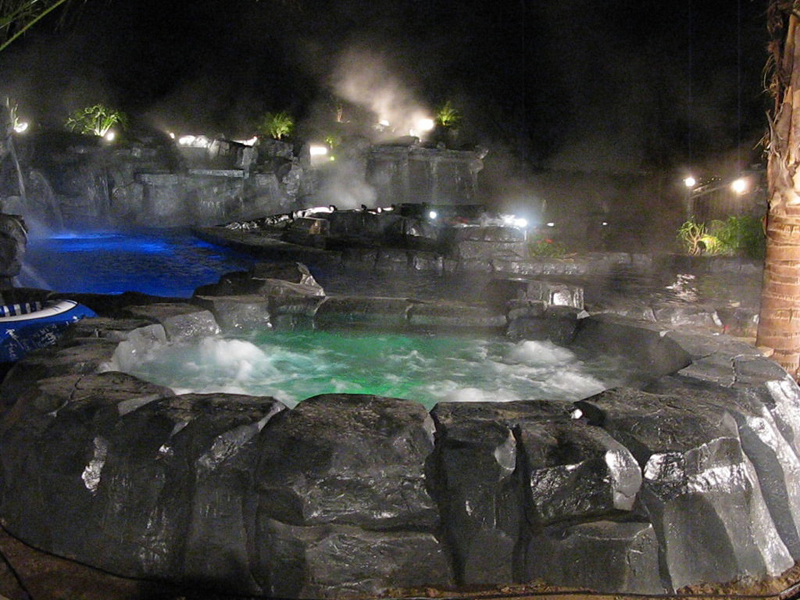 A hot Jacussi is relaxing on a cold night
Here is how we feed and care for our dogs
Our Outdoor Play Yards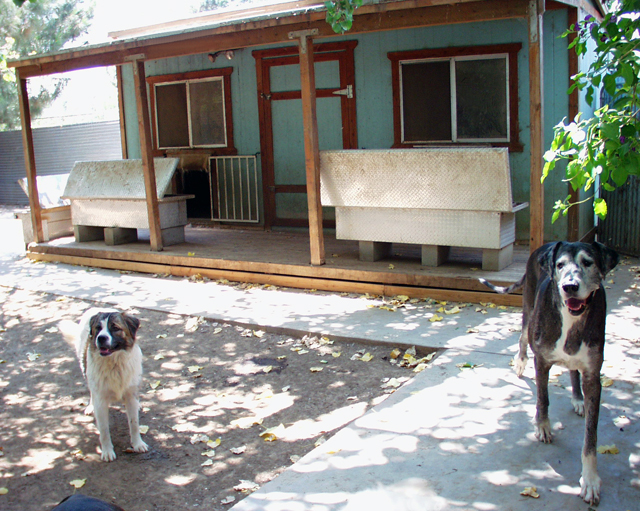 Our custom built lounging bungalows feature air conditioning, plush carpeting, heavy
duty insulation, giant doggie doors, huge elevated feeders, and automatic waterers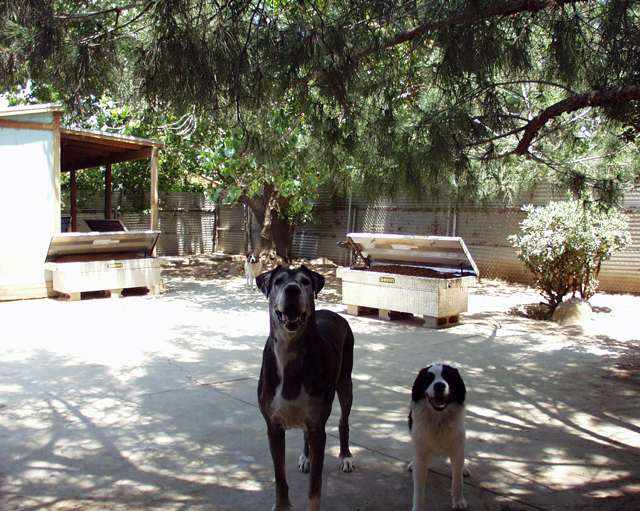 Our Gentle Giants enjoy their large private play yards with plenty of shade
We have developed a unique communal living/training program for all of our dogs that, to our knowledge, no one else has successfully accomplished.

All of our giant breed dogs, both male and female, young dogs as well as adult dogs, are behaviorally trained by us to live harmoniously together without ANY cages or kennels, in our home with us. They even have lounging bungalows in their play yards!

The bungalows are fully insulated, carpeted, and climate controlled just like human houses.

There is no separation between our dogs. They sleep together, play together, eat together, and because they have the constant company and entertainment of each other, we have no barking or disagreements, or any noise whatsoever.

We have also trained our Gentle Giants not to bark unless they sense danger.

People coming here daily to adopt are constantly asking us if they are in the 'right place' because our property is so quiet, so serene, and so peaceful.

Of course, all of our Gentle Giants and Little Giants are spayed or neutered and micro-chipped, and all are trained by us to love and respect people, dogs, cats, and other animals.
Communal living in our home without separation and outdoor community play yards
nurtures the natural instincts of our Gentle Giants and increases their longevity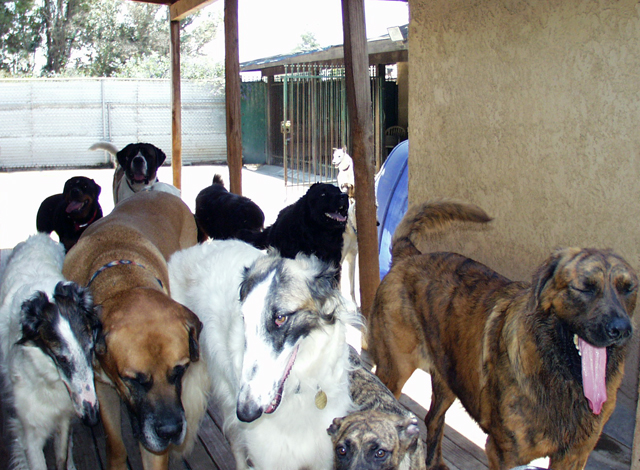 Our Gentle Giants congregate on their spacious shaded porches
(Great Danes, Borzoi, Irish Wolfhounds, Great Pyrenees, Saint Bernards, Newfoundlands,
Greyhounds, and 10 different breeds of Mastiffs live here together in total harmony)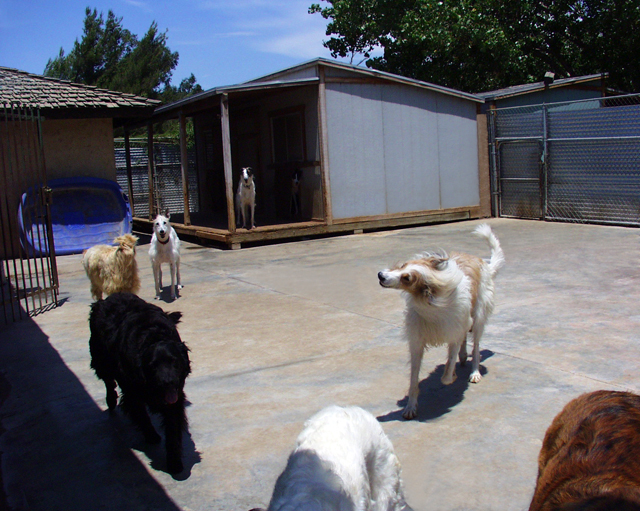 Our dogs frolic in their giant exercise areas with wading pools