Gentle Giants Rescue and Adoptions - What's New? - Latest and Greatest! - Page 1 of 9
Go to Page 1 · Page 2 · Page 3 · Page 4 · Page 5 · Page 6 · Page 7 · Page 8 · Page 9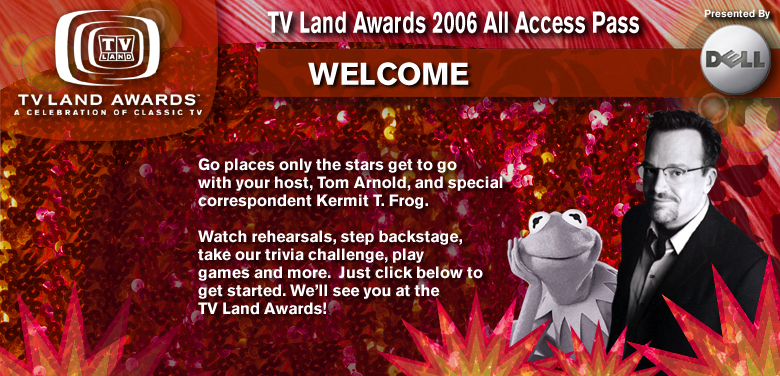 TV Land celebrates its 4th Annual TV Land Awards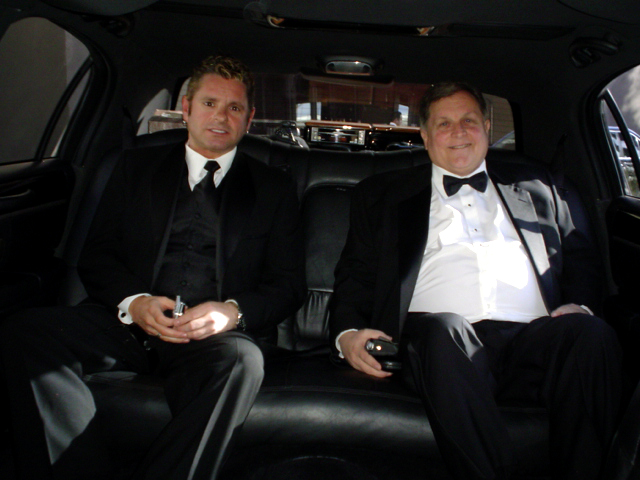 Burt rides in a limo to the awards with
his manager/friend Andrew Goodwin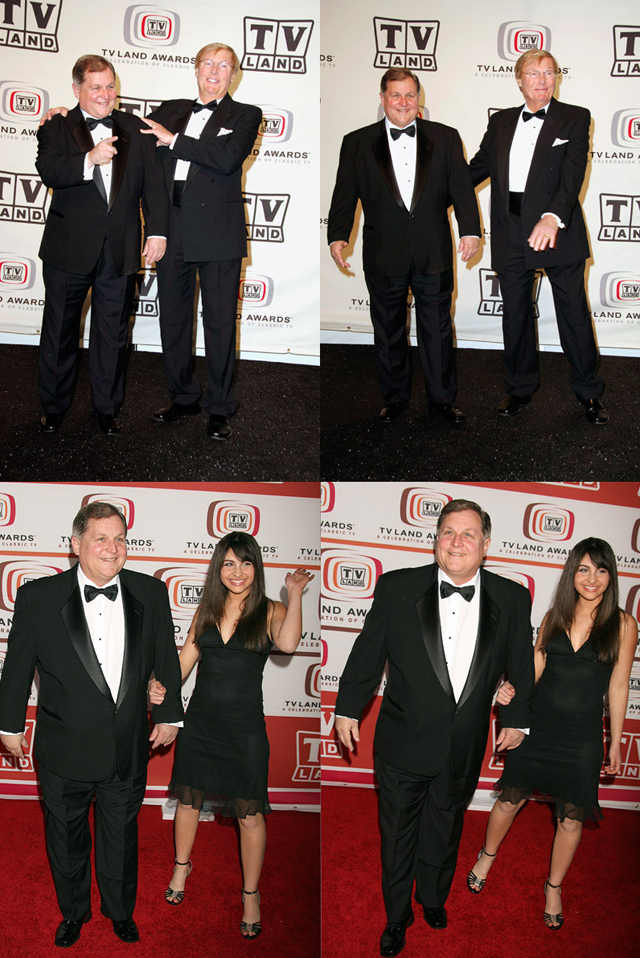 Burt, Adam, and Melody walk the red carpet in front
of all the major media and dozens of photographers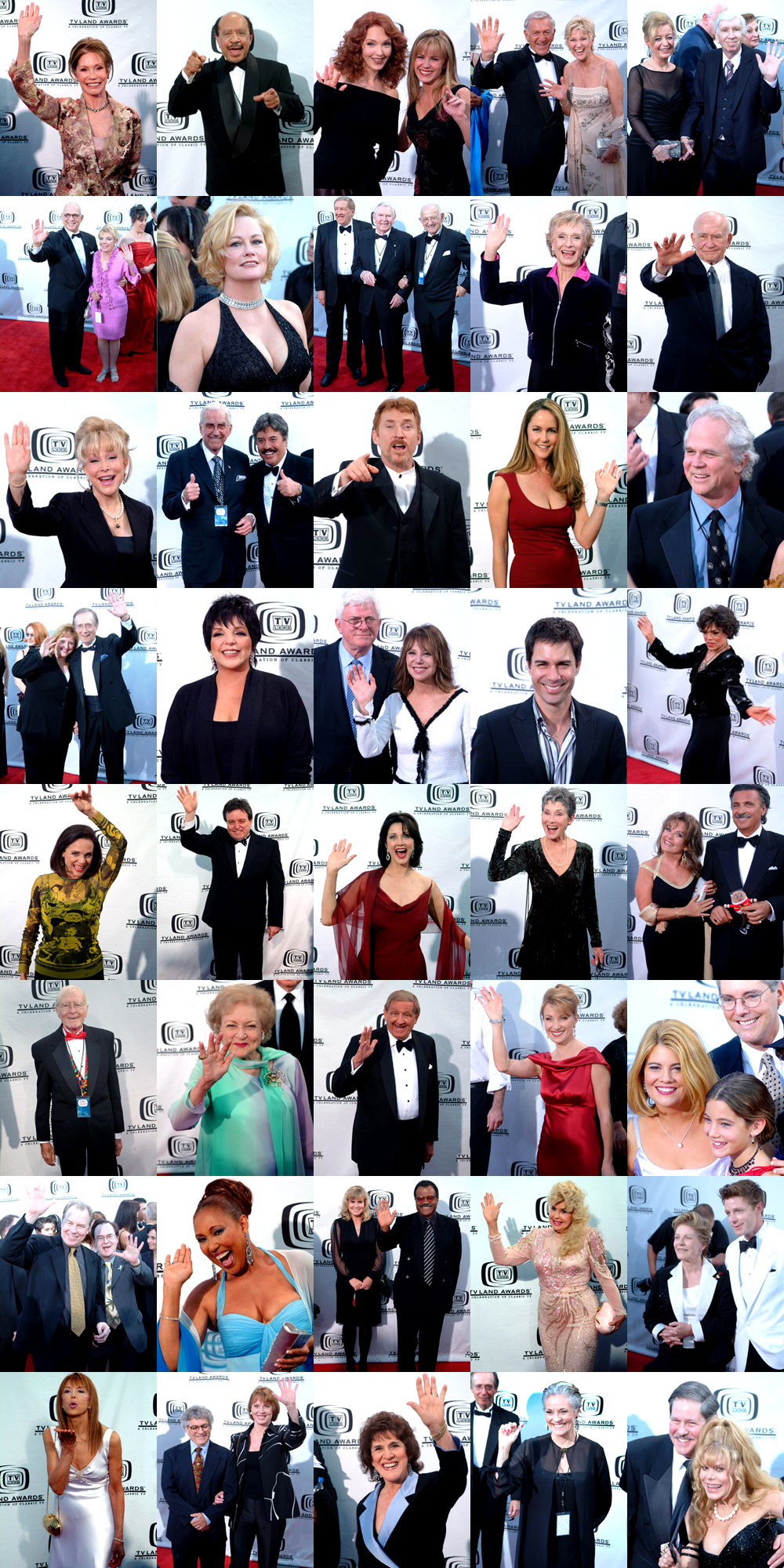 The stars of the most famous television show classics
in U.S. television history attended the TV Land Awards
(Star photos: left to right starting at the top: Mary Tyler Moore, Sherman Hemsley, Amy Yasbeck and Trista Rehn,
Jack Klugman, Bob Denver, Gavin MacLeod, Cybill Shepherd, Andy Griffith, Cloris Leachman, Ed Asner, Barbara Eden,
Ed McMahon and Tony Orlando, Danny Bonaduce, Erin Murphy - Tabitha, Tony Dow, Bernie Koppel, Liza Minnelli,
Phil Donahue and Marlo Thomas, Eric McCormack, Eartha Kitt, Valerie Harper, Jerry Mathers, Linda Carter,
Elinore Donahue, Dawn Wells, Howard Morris, Betty White, George Lindsey, Jane Seymour, Lisa Welchel,
Michael McKean and David L. Lander, Thelma Hopkins, Ted Lange, Donna Douglas, Patty Duke and
MacKenzie Astin, Tina Louise, Mariette Hartley, Ruth Buzzi, Lee Meriweather, Charo)

Burt and Adam receive their Lifetime Achievement Awards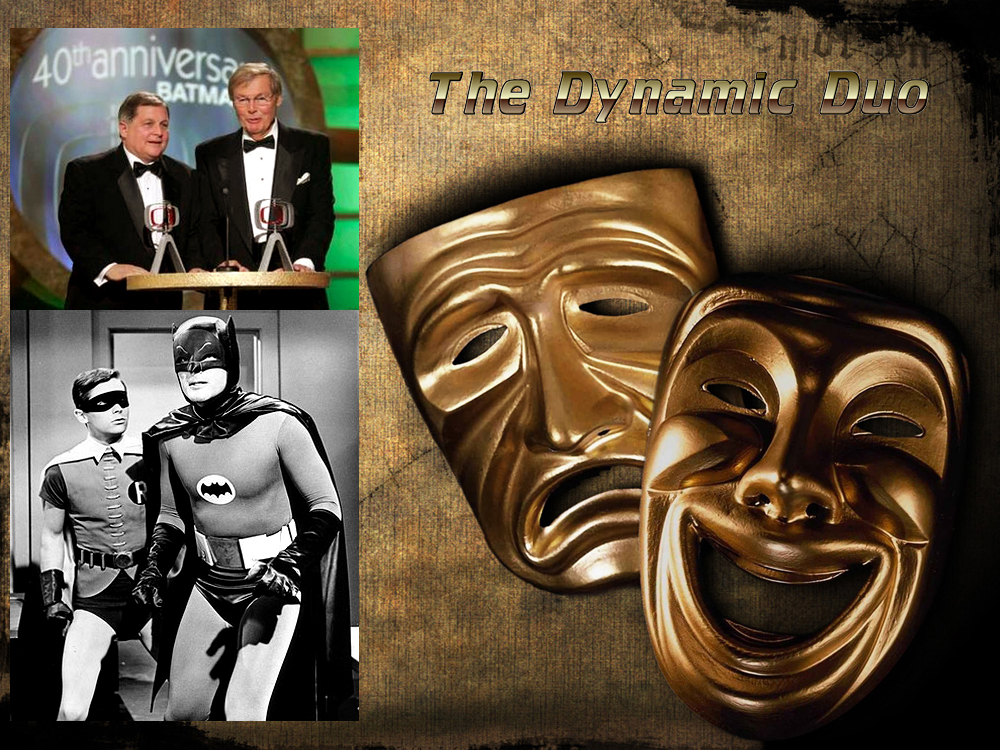 Robin and Batman prepare to fight heinous villains


| | |
| --- | --- |
| Burt and Melody arrive at the TV Land Awards and are beseiged with interviews with all the major media - dozens of TV, radio, and newspaper reporters and photographers | |
Burt and Melody enjoy themselves at the gala event before
and after Burt receives his Lifetime Achievement Award
presented to him by William Shatner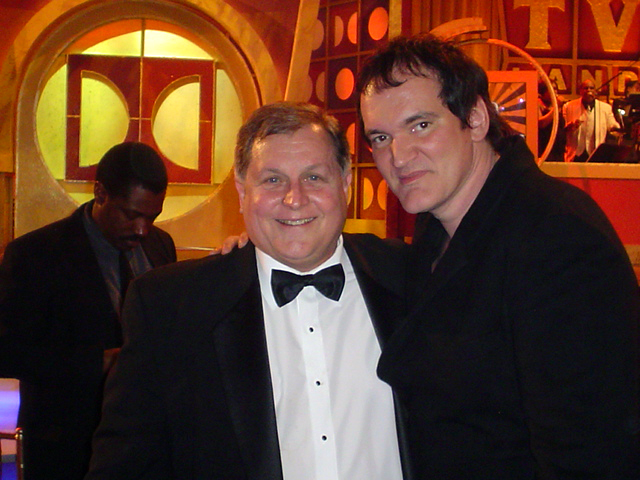 Burt and Quentin Tarantino pose for a photo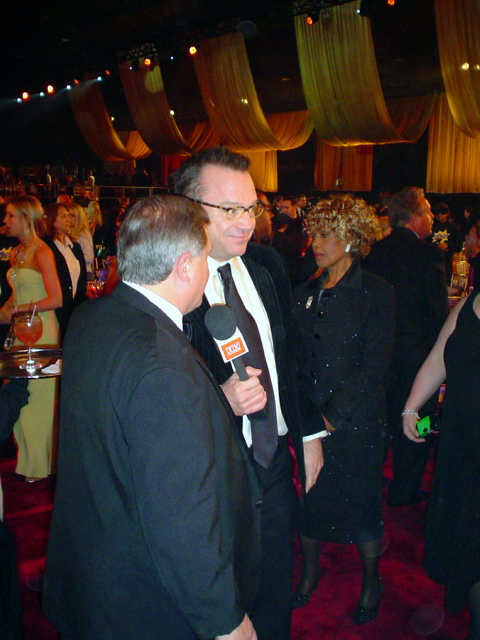 Burt is interviewed by Tom Arnold for TV Land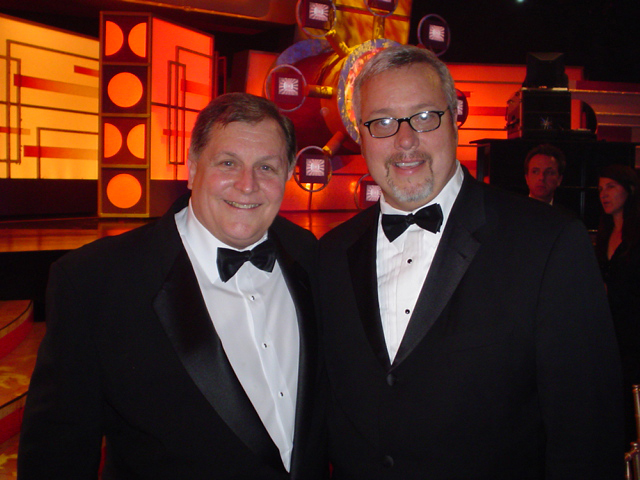 Burt and TV Land/Nick at Nite network president,
Larry Jones, pose for a photo at the TV Land Awards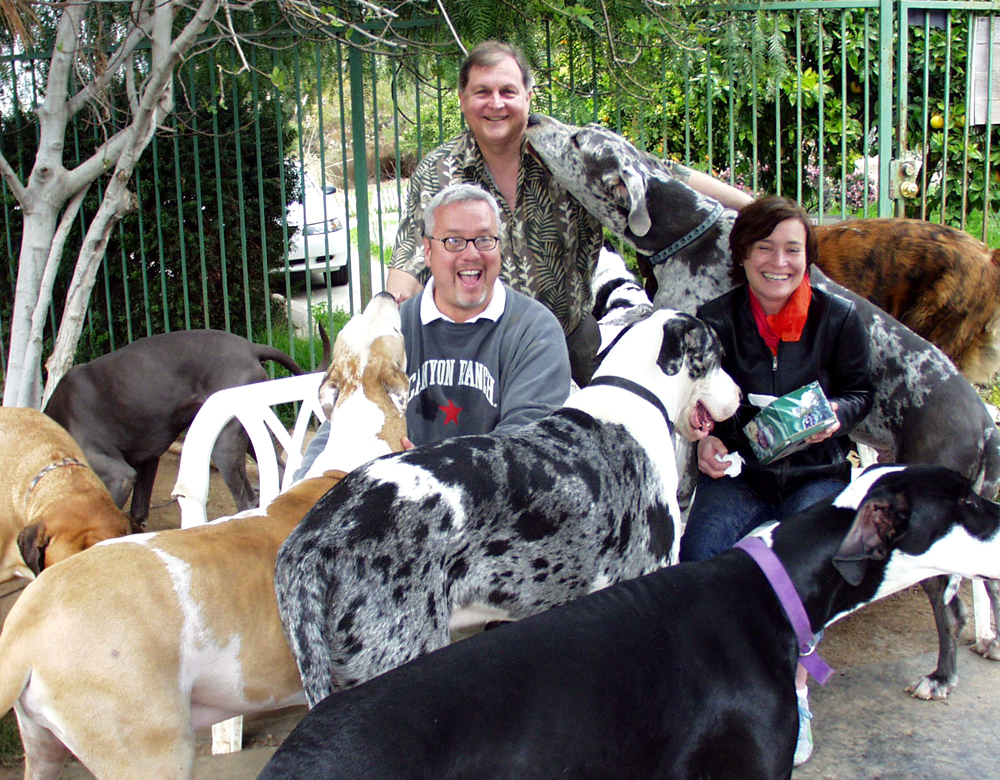 TV Land/Nick at Nite network president, Larry Jones, and
TV Land/Nick at Nite Vice President of Development, Monique Hart,
visit Gentle Giants Rescue and enjoy meeting our Gentle Giants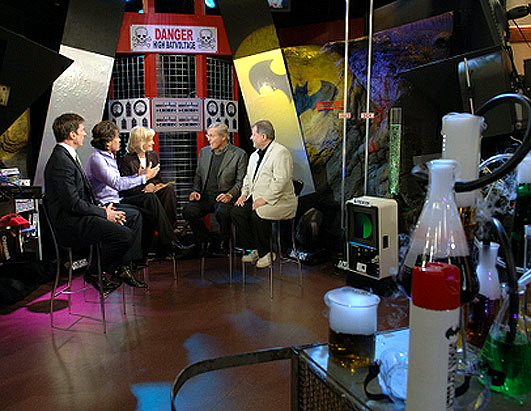 Burt is interviewed by
Good Morning America

hosts Diane Sawyer, Robin Roberts, and Bill Weir
who also interviewed Adam West (
Batman
)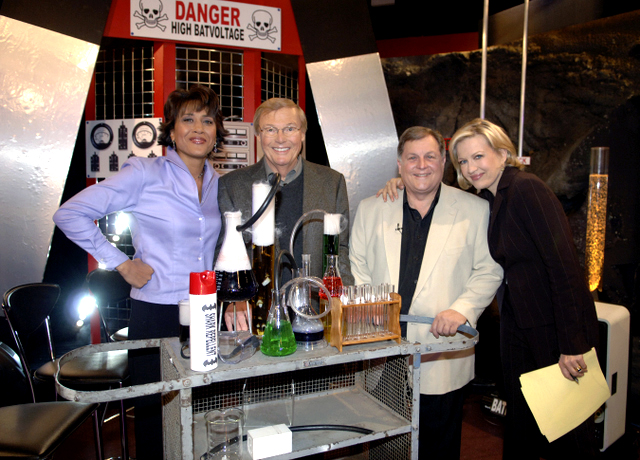 Burt and Diane Sawyer pose for a photo
with Robin Roberts and Adam West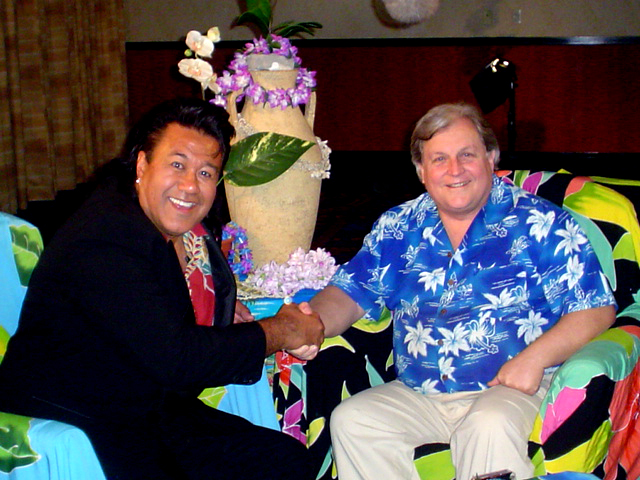 Burt gets a warm welcome and "Aloha" from
Branscombe Richmond on
Good Morning Hawaii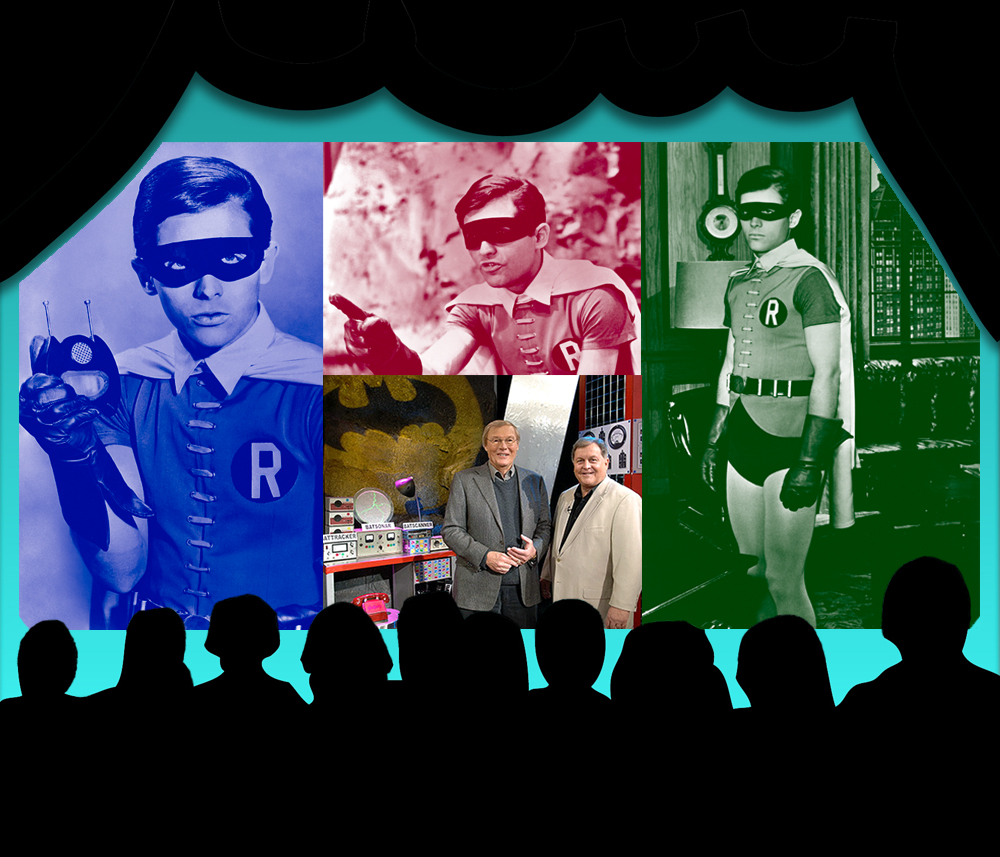 Burt as "Robin the Boy Wonder" and guesting on
Good Morning America

Saw you on Sci Fi's "Psychic at Large"

4/10/06

Hi!!!!!!!!

I saw your 'reading' on Sci Fi and was delighted to see you, Burt!!! I can't tell you how much you and Adam meant to our family back in the 60's. There's never been a show like it and there never will.

I really enjoyed your reading.

I think that you are super heroes in taking care of so many dogs and dedicating your lives to helping orphan breeds. If and when we have money to spare, we will contribute to your effort.

Burt, I respect your marriage TOTALLY, but Oh My God! Tracy is an incredibly beautiful woman. You are a lucky man!!!!!!!!!!!!!!!!!!!
And I'm sure you know it!!! Tell her she has another admirer!!!! lol

I'll pray that your endeavor is successful for many years to come!!!!!!!!

God bless both of you!!!!!!!!

Larry
Burt and Tracy recently made a guest appearance on the
Science Fiction Network's new weekly series,
Psychic at Large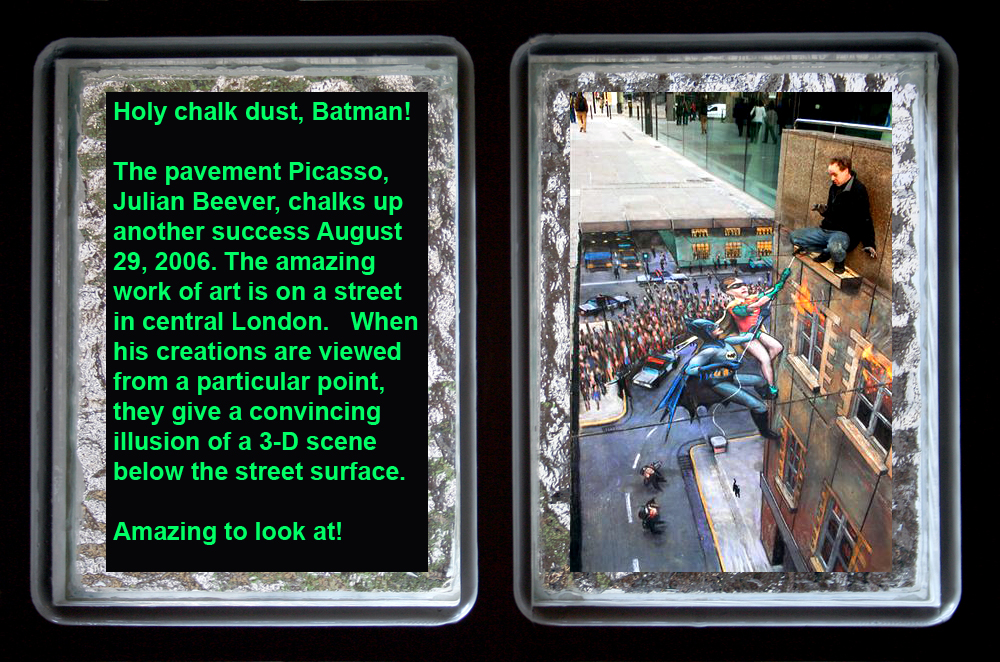 Batman and Robin artwork on a London street
(
Please see our first Storybook below. It is only partially complete. There is lots more to come!
)
Recent Adoptions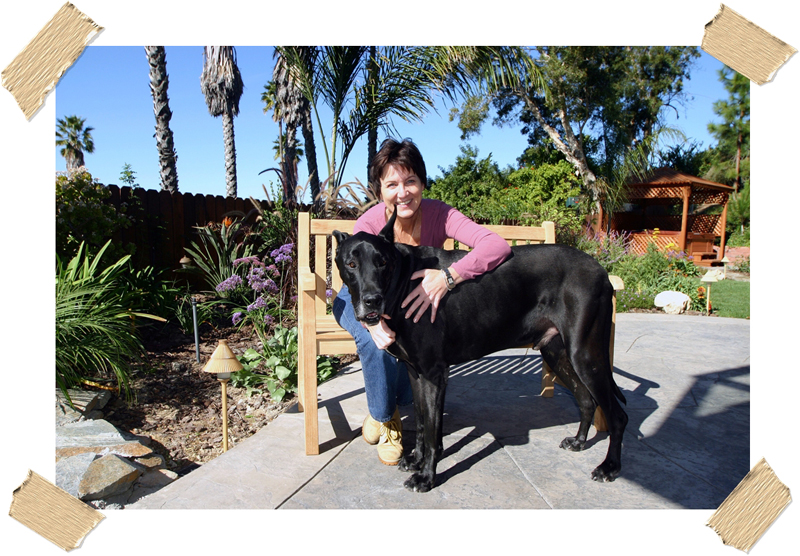 "Zeus" poses with his new mom, Susie, at his new home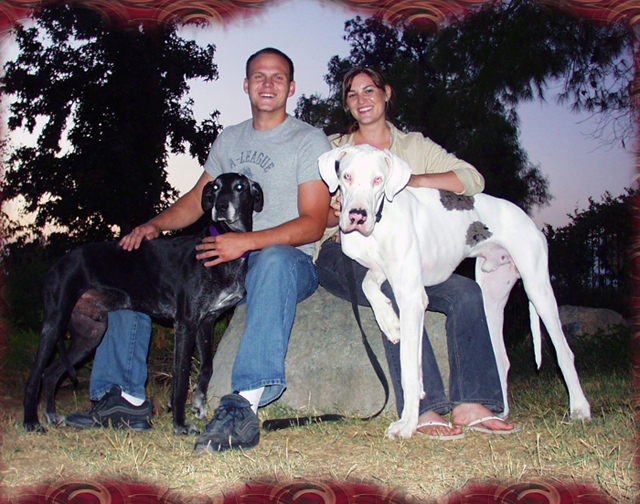 "Elmer" Jeff "Sarge" and Roshan make a beautiful family!
Jeff and I want to thank you for all your time yesterday.

The four of us made it home around 4:00 a.m., and all slept very well!

Within 10 minutes of having them in the car with us, we had people commenting on how gorgeous they were at the drive-through windows.

We decided to name "Bones" "Sarge" (short for "Sargent") and I am trying to decide on a name for "Spot."

He sticks to our sides like glue, so I am thinking maybe "Vell" short for Velcrow (he he), or "Elmer" like Elmers glue!

Not quite sure yet, but he is trying to get on my lap as I am typing this right now - a pure bundle of love!!
"Sarge" is a very big puppy!

We now understand why you say puppies can be difficult.

This morning, "Sarge" carried me a loaf of bread right off the back of our counter tops!

I guess it's time to put everything in the pantry!!
"Spot" has had several cases of chattery teeth.

But, when we put a blanket over him or cuddle him it seems to stop instantly (almost seems like he is doing it on purpose!!)

He must have been taught not to jump on furniture, because I tried all morning to get him in bed and he wouldn't, which I suppose is a good thing.

"Sarge" jumped up there like it was a bed of his own.
We are going to take a lot of photos and send some over to you for sure!!
Talk to you soon,



Roshan and Jeff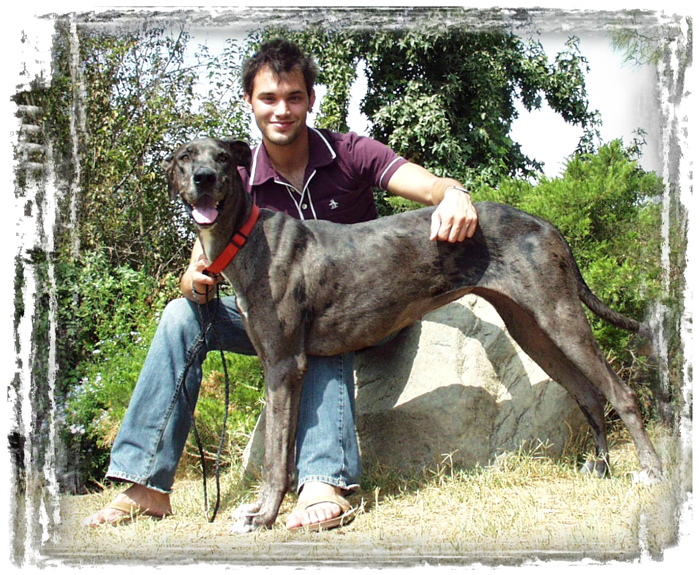 "Destiny" finds a loving new home!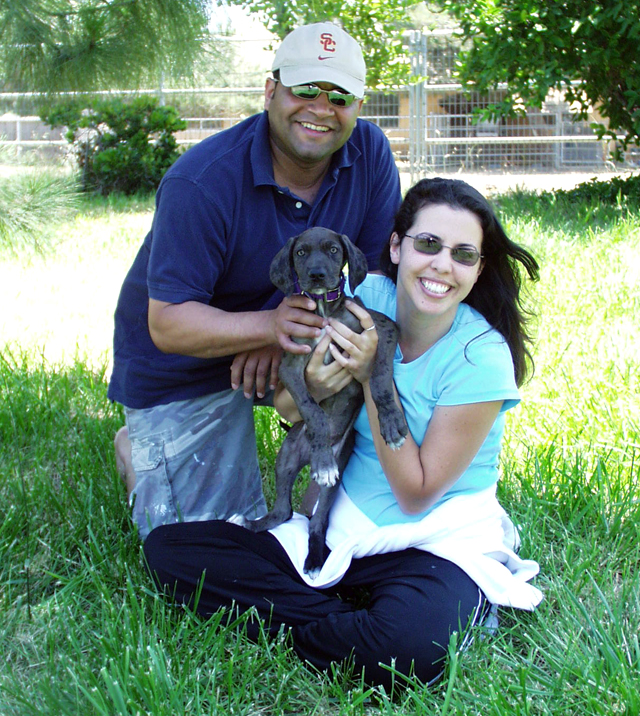 Burt and Tracy,

Hi guys.

I hope all is well and that lots of new doggies are adopted every day.

We were lucky enough to have adopted "Scooby Dee" who was renamed "Sheena."

She's a beautiful Chocolate Merle Great Dane puppy and we couldn't love her more.

Good luck with all of the adoptions, and don't be surprised if you see us again.

We know if we add any new canine members to the family, we're getting them from you!

Thanks,

Jennifer

P.S. We ordered the canine cuisine through the delivery service for the first time and they couldn't have been more prompt.
They arrived days before the expected delivery date, we were really happy with the service.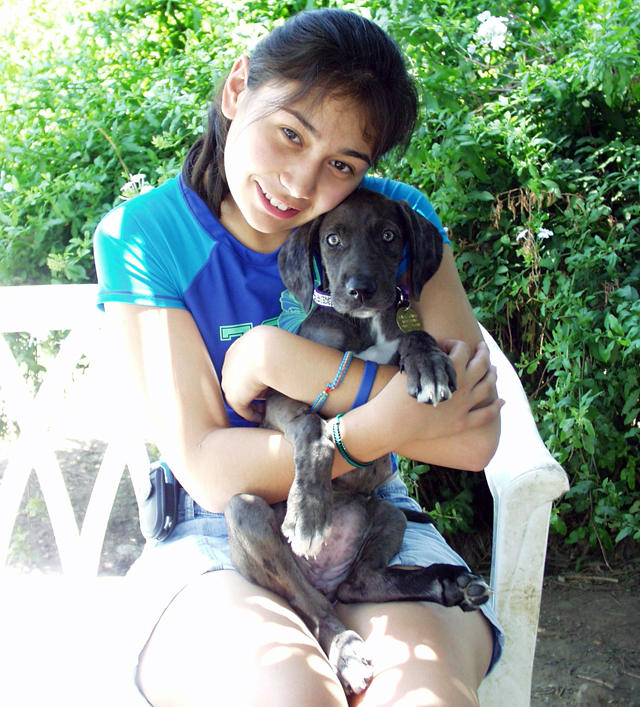 "Sheena" is cuddled and loved!
Dear Burt and Tracy:

So - we should have taken your advice when we were there a year ago and just taken 2 dogs with us!!!  

It's been almost a year now since we brought "Tonka" (formerly known as "Cirque") into our home.  

It has been the best experience!  

You could never have explained the absolute joy that this dog would bring into our home.  

He is the best dog and loved by EVERYONE that has come into our lives!  

We are so lucky!!!  

We would love for him to have a companion and were thinking about adopting another Dane.

Would you like us to fill out another application?  Please let me know and I will get that to you ASAP.  

I am still a 'stay at home dog mom' to our sweet "Tonka" and he loves every minute!  

He is spoiled, but is very deserving!  

I am including a photo of him.

After I wake up in the morning, he crawls up in the bed in my spot.  

As you can see, I don't even have time to make the bed!!!  

We get such a kick out of him!

Well, we hope you are all doing well.  

Thank you for taking the time to respond - enjoy the photo!

Take care,

Amie and Ken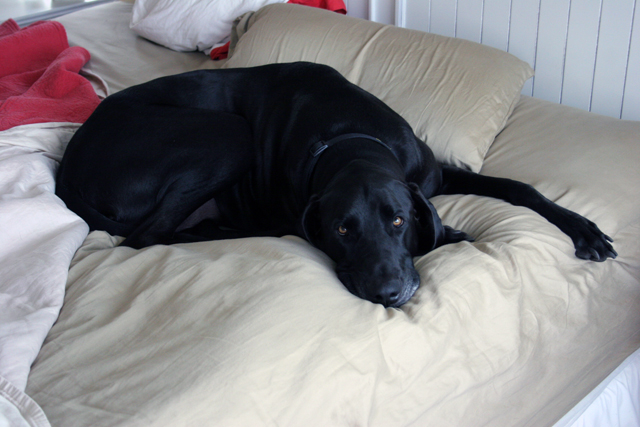 "Tonka" curls up on his Momma's and Daddy's bed



"Brewdis" is adopted by Blake and Stacy
July 24th

Hi Tracy and Burt,

We had such a wonderful time yesterday. 

We renamed him to "Brewdis."

He's been such a good boy.

You guys are absolutly amazing with what you do. 

I've never seen such a wonderful rescue. 

We will definitly be sending photos. 

Last night he crawled in bed with us - so much for that not happening! 

HaHa! - And went UNDER the covers right in between us! 

It was soo cute!

Guess he'll be in our bed now. 

Oh, and he's a pretty good snorer.

We can't stop smiling and laughing with him.

We're in love!

Stacy and Blake



Hi Tracy,

Here are some funny photos.

We love him so much!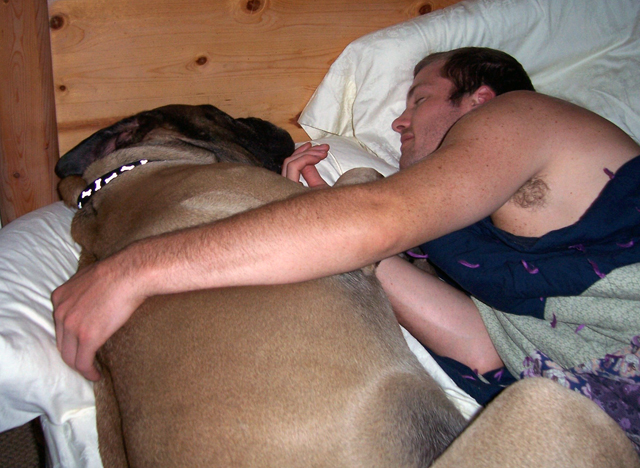 "Brewdis" and Blake nap together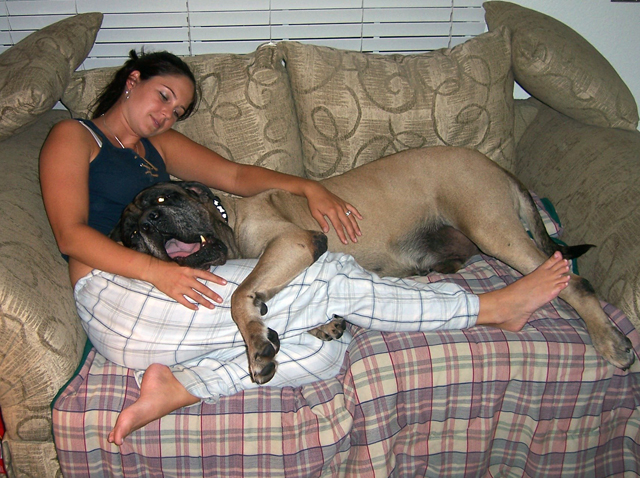 Stacy finds that "Brewdis" is a real lap dog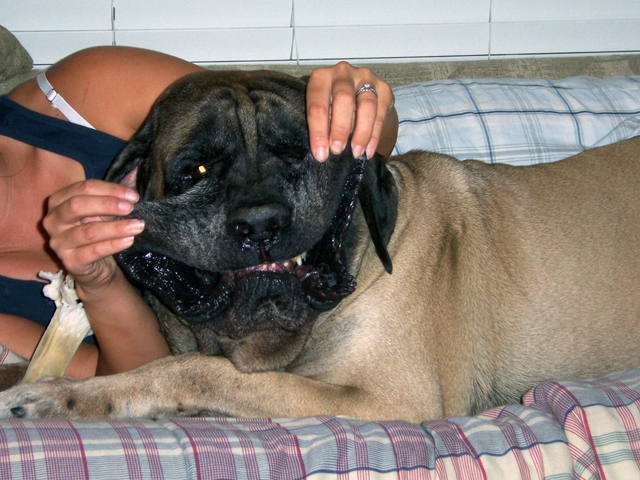 "Brewdis" wins the 'Best Smile' award

Please Note: Gentle Giants Rescue and Adoptions, Inc. reserves the right to make changes, additions, deletions and/or modifications to its website, documentation, requirements and policies at any time.
All such changes, additions, deletions and/or modifications to its website, documentation, requirements and policies may apply retroactively at the discretion of the company.

© Copyright 2003-2012 Gentle Giants Rescue and Adoptions, Inc. All Rights Reserved.